(New Glarus, WI) –  Today the New Glarus Brewing Company announced the release of the latest beer in their Thumbprint series, Spotted Cow Grand Cru.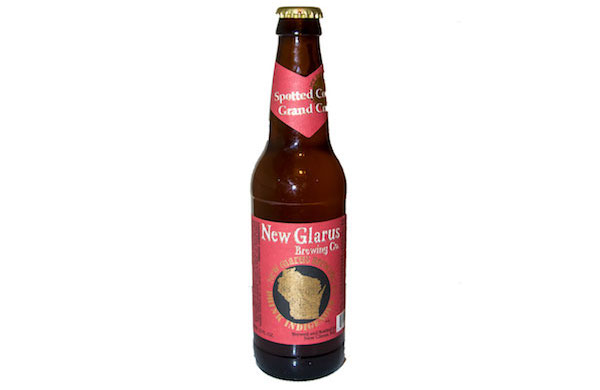 Spotted Cow Grand Cru was first released in the Thumbprint series in 2016 and quickly became a favorite for beer drinkers in Wisconsin. This special amped up version of Wisconsin's most iconic craft beer boasts an 8.7% ABV and an Original Gravity of 18.7 degrees Plato. Spotted Cow Grand Cru was brewed with Wisconsin malts and hand chosen Yakima Valley, Wisconsin, and French hops. Fresh coriander and sweet orange peel kick up Dan's special Farmhouse Ale. This beer is bottle fermented and hazy, using the same yeast found in New Glarus Brewing's flagship beer, Spotted Cow. Expect Spotted Cow Grand Cru to be an assertive, but highly drinkable, Imperial edition of Wisconsin's favorite local brew.
Spotted Cow Grand Cru shipped to wholesalers the week of January 15th and should be showing up in stores and on tap lines in Wisconsin the week of January 23rd. To find the closest location currently stocking Spotted Cow Grand Cru please use the Beer Finder on the New Glarus Brewing website at https://newglarusbrewing.com/pages/beerfinder.
The New Glarus Brewing Company Thumbprint series of beers are intended to be brewed as an expression of Brewmaster Dan Carey's love for the artistry and craft of beer making. These beers are made in smaller batches with the beer enthusiast in mind.
Employee-owned, New Glarus Brewing Company is located in Green County Wisconsin and has been crafting World Class brews for their friends in Wisconsin since 1993.
Source: New Glarus Brewing Spotted Cow Grand Cru Returns • thefullpint.com